Home page
Beard Oil + Conditioner for Men - Cedarwood
---
Sale price
$15.97
Regular price
$19.97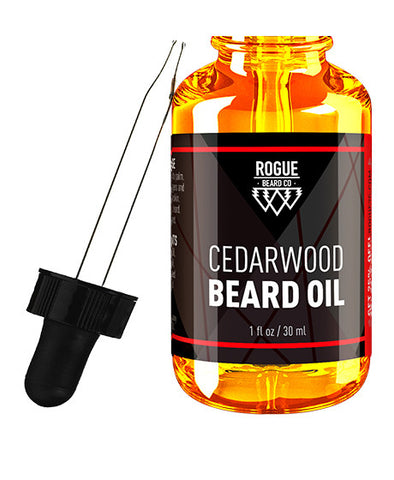 Your beard is rough, itchy, and your beard feels like steel wool. This is not what you or your beard were made for. Conquer your beard problems with Rogue Beard Oil.
Scented with premium Cedarwood Essential Oil Blend and all natural, this beard oil is made for a man who's looking for a simple oil to keep his beard from looking like a wild animal.
Take courage, Rogue's natural beard oils will only smooth and shine the beard, not make your beard oily or greasy. Our Rogue blend of beard oils is free from dyes, chemicals, preservatives, and any other unnatural ingredient that you should protect your beard from.
Rogue Beard Company offers a full 100% MONEY BACK GUARANTEE and outstanding customer service for no-risk purchasing. Don't absolutely love it? We'll refund it.
HOW TO APPLY BEARD OIL
When using your beard oil, thank your beard for its majesty and manliness. Then place 3-5 drops of beard oil in your hand and run the oil through your beard.
If you're committed to the best for your beard, use the oil after you towel off from your shower. Shape your beard and enjoy the feeling of the manliest beard you've ever had.
Related Products
---